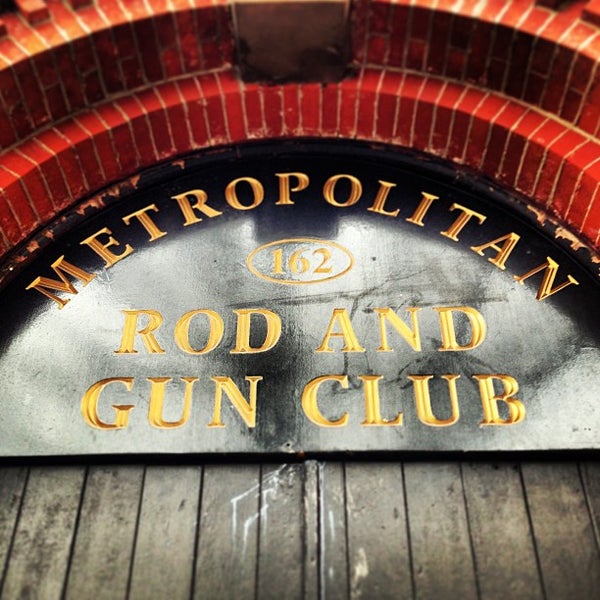 In case you missed it, we had a great talk with Captain John McMurray on Sunday, traditionally Tax Day and also the official start of striped bass season. John has an awesome presentation on bait and migration patterns through the course of a season in Jamaica Bay and I highly recommend trying to get to one. In fact, you should have been there Sunday. I personally learned a lot about the Bay and have a lot of new ideas of how I want to try to fish it this season.
Special thank yous go out to the Brooklyn Urban Anglers crew—some new faces I haven't met before (hey Jonathan! hey Joanna and Clyde!) and a few regulars (hey Alex, Altay, and Robin!)—Matt Rogers and the Metropolitan Rod and Gun Club for hosting us, and my girlfriend who secured the chocolate babka and drove me around while I'm currently in a somewhat illegal driving status. The Metropolitan Rod and Gun Club is a really cool old building with tons of trophies taken by members over the almost 100 years of its existence (it's missing fish on the walls, though—maybe we should get a gorilla blue on the wall this year). It also has a shooting range and an archery range, as well as nearly 1000 acres in upstate New York that's available to members for fishing, hunting, and shooting. It's worth a membership and I want to try to join up this year. It's amazing that something like this exists right in the heart of Brooklyn.
****
The 2018 season is underway, and though the water is still in the low 40s, I've seen some bass caught in the bays. Right now I'm in a rough spot, transportation wise—my bike is in need of some pretty serious and urgent repairs and is basically unrideable at this point, and aside from the questionable (read: illegal) driving status, my car is also in the shop with nearly all of my gear.  This is really my fault since I should have taken it out of the trunk, but my waders, boots, plug bag, and storage containers are all in there and currently inaccessible. I have no shortage of emergency gear though, and I also stocked up a little bit over winter with some new stuff I aim to try out, as soon as I can get my girlfriend to drive me, or otherwise pay these fines looming over my head.
First up are these plastics. From left to right Cobra Bait 5″ Sad Shad, Elias V Extreme Paddletail Shad, and Cobra Bait 7″ Sad Shad, all on Tog Candy 1oz. bullet jig heads. I had some good luck with the Elias shad last season and I'm stoked to try out these Cobra Bait lures. The quality with all of these is very good. The Tog Candy jig heads are also of high quality, with a double barb on the collar that does a great job of keeping those baits on the head. As usual, a little dab of glue doesn't hurt either. The Elias V and Tog Candy gear are NY-based businesses. Support the local scene!
I also am trying out these bucktails made by Tinman Tackle. Dan over there makes some really nice bucktails and will make nearly any combination you want, to order. I was really impressed with the quality of these bucktails when they came in the mail—and they have lots of hair to keep the bucktail buoyant and slow sinking. I started off with a light assortment of bucktails from 1/2oz to 1oz for the early season, but I'll probably order more as the season goes on. I ordered mine directly from Dan on the Stripers Online site—he has his own ordering thread here. Dan was a great guy to work with, and he's fast too.
So even though my plug bag is stuck in my car, I still have a pretty decent early season arsenal, and one in which I have a good amount of confidence. Now, if I can only get out on the water….
—mkl